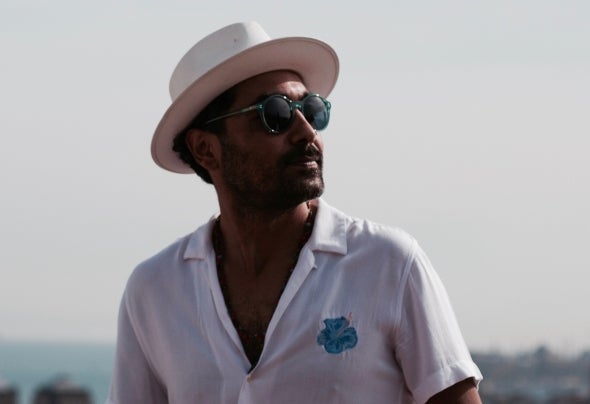 Omerar Nanda is a producer and DJ from Turkey. He started young singing, playing keyboard and combined it all later by starting to produce electronic music at the age of 21. His music ranges through all tempos always conjunct in the purpose to shake your soul and excite your mind. In his tracks he uses his own voice as vocal and loves including messages to the world. Omerar Nanda essentially takes music as one of the central themes of his life and rooted in the sounds of a new technological and social era, He certainly did not skimp on the effort to incorporate traditional ethnic folk rhythms into a contemporary electronic music.
Majnoon – Burning Inside feat. Deniz silica (Hot Oasis Desert Vision) [Lump Records]
Lump Records fuses traditional world music with modern technology. For its next release, the label aptly returns to the Land of Muses! "Ethnic Universe" welcomes back one of Turkey's most unique live acts. Following the success of Rist Istanbul, DJ KhaiKhan and Can Bener went on to found Majnoon. They now perform alongside musicians that play local and regional instruments. On "Benem," MTU and Eren Erdoğan supply authentic vox and woodwinds, such as the Duduk.
Majnoon
All began with love, Turned into faith, Blossomed with passion, We are MAJNOON !
Majnoon Arabic origins, other dialects pronounce it magnoon, it literally means "crazy" as in mentally ill, but has been extended in the vernacular to include something that's crazy or unbelievable. In Arabic language, Layla name means "night," and is thought to mean "one who works by night" or "worker of the dark." This is an apparent allusion to the fact that the romance of the star-crossed lovers was hidden and kept secret. In the Arabic language, the word Majnun means "a crazy person.
https://lump-rec.bandcamp.com/album/majnoon-ethnic-universe-ep