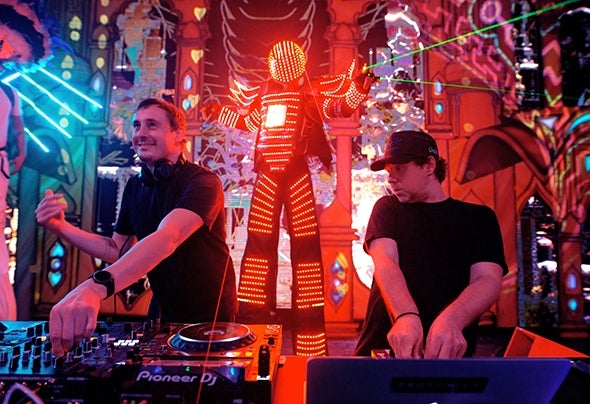 PROTONICA from Berlin have been shaping the international Psy-Trance scene for over two decades. Piet Kaempfer and Ralf Dietze are among the top producers of the progressive genre. They are known for their driving, powerful and melodic Psy-Trance sound that thrills the oors in Europe, America, Australia and Asia. In the studio Ralf and Piet are always looking for innovative production techniques – their new tracks sound full, warm, crystal clear and a bit out of this world. Their handpicked releases are followed by tens of thousands of listeners around the world and have already achieved numerous number one chart positions on Beatport and Psyshop. PROTONICA's third album "Symmetry" was recently released and features stunning collaborations with some of the world's leading Psy-Trance artists, including Liquid Soul, Ace Ventura and Captain Hook. While working on "Symmetry" they felt the urge to bring back melodic structures and elements of Trance and Goa to Psytrance – the core essentials of their past, and ingredients for the future. Piet and Ralf have worked hard for their careers and have established a strong brand with a distinctive signature sound in recent years.
Protonica – Rise Of The Robots – 2015
Protonica serve us the next single this year called 'Rise of the Robots'. With this track they show us another time there skills in the studio, made for the dancefloor. This tune has been tested as always on many dance floors Worldwide !!!
Iboga Records is proud to present the first releases with new remixes from Liquid Soul's album Revolution.
Liquid Soul – I See The Spirit (Protonica Remix) 2015
Protonica – Modification 2013
This is the galaxies Best Trance, Psychedelic, House, Techno Electro and Dubstep as judged by the Milky Way Galactic Federation of Arts and Music. Location 365 light years from earth. This channel will help you find only the best of these Genera's.